Company
inocan, founded in 2007, with over 10 years technical design capacity to develop all-round industrial display & smart terminal, has become a high technology party covering development, production, sales and service.
With over 10 years technical design experience, Sinocan has mastered the innovative core technologies and processes of communication, artificial intelligence, smart manufacturing and full lamination that represent the future technology development trends. We have software and hardware development teams with rich expertise in the industry, we also own outstanding automated production lines, the highest standard dust-free workshops, strict testing, quality control process, and after sales service. Sinocan, with own IP, develops such products as EMR touch, P-cap touch, or IR touch enabled open frame monitor, stretched display, double side display, digital signage, interactive display panel, team collaboration equipment, all-in-one panel pc, pos, handheld pos,etc. Sinocan owns 42 IPs, software copyrights and honor certificates like CCC, RoHS, CE, FCC, ISO9001 / 14001, UL, PSE, European Energy Conservation, and Energy Star.
Sinocan products have been widely used in banking, government, enterprises, education, retails and healthcare. We have strategic cooperation with numerous brands around the world and our products are sold to 40 countries all around the world including Europe, USA and Asia.

As a national Hi-tech enterprise, Sinocan has been long focused on the establishment and continuous investment of a self-owned innovative R&D team which is comprised of famous industrial experts, senior engineers and professional technicians in this industry,80% of whom ( more than a dozen of them have owned Ph.D or Master degree) have had over ten years working experience on both hardware technology and software development. Till today Sinocan has owned many independent intellectual property rights on a number of advanced technologies. 

Sinocan has won a number of honorary titles such as "well-known POS machine brand", "Outstanding Card Equipment Award " and "Innovative SME", and has ISO9001 quality system certification. The products has National CCC certificate, RoHS certificate, CE certificate, FCC certificate, CB certificate, and national security certificate, etc. Sinocan also has dozens of invention patents and software copyrights.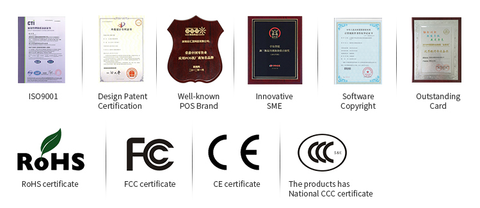 Core Value
Honesty, Responsibility, Satisfaction, Artisanship
 
Culture
1. Vision
Exquisite Product, Top Quality, Number One
Incessant earnings for customer, employee, and stakeholder
Responsibility for family, company, and society
2. Mission
Provide to customer products and services with high C/P value. Promote the international image for Chinese products
3. Objective
Deliver more than the expected
Deliver the unexpected
4. Policy
Satisfaction, Quality, Participation, Improvement